What Trust facilities are there?
Traditionally most projects have tended to be sponsored by one, or other, of the Services. From the Trustees' point of view, the ideal remains the provision of facilities that will jointly benefit the Royal Navy, the Army and the Royal Air Force. To reflect this principle and to mark the 60th Anniversary of the Trust in 1999, a special grant of £1.35 Million was made to provide a Nuffield Holiday Centre on the Isle of Anglesey, overlooking the Menai Straits. This Centre offers both flatlets for families and dormitory accommodation for groups of Service personnel.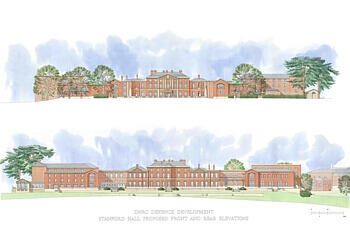 The Trust has also granted £5 million to the Black Stork Charity in support of the new Defence and National Rehabilitation Centre (DNRC) at Stanford Hall Estate near Loughborough. This is world-class, state-of-the-art clinical rehabilitation centre for the Armed Forces with the potential for a complementary civilian (i.e. 'National') facility on the same site. The £300m programme provides a bespoke and purpose-built successor to the existing Defence rehabilitation establishment at Headley Court in Surrey treating injured soldiers, sailors and airmen and women. It was the initiative of the 6th Duke of Westminster, Gerald Grosvenor, a long-time Chairman of the Nuffield Trust, who led the charity fundraising drive with a personal founding gift of £70m. The Duke of Westminster, on behalf of his father who died in 2016, formally handed over the gift of the DNRC to the Prime Minister who accepted on behalf of the nation in June 2018.
There are also many other recreational facilities provided for Service personnel and their families, most of which have been supported by the Trust at some time. Details of these facilities can be obtained through the Service's Community Support and Welfare websites.